| | | |
| --- | --- | --- |
| Welcome | | You are not currently logged in. |
| | | |
| --- | --- | --- |
| | | |
| | | |
| | | |
TPP Alert: Big Business is hustling for votes for the TPP to increase profits by shipping jobs overseas. Call 1-855-980-2256 now. Tell your Rep "NO Fast Track. Read More...
TPP=SHIPPING OUR
JOBS OVERSEAS
The TransPacific Partnership TPP is like NAFTA on steroids. To ram the agreement through congress, they first need to pass 'Fast Track' legislation.
Fast Track forces an up-or-down vote by Congress with limited debate and no possible amendments. To stop the TPP, we must stop Fast Track Legislation.
Make our voices heard: Stop Fast Track Now!
We have watched our jobs being offshored and must take action to put a stop to more outsourcing!
The job you save could be your own!
Call today - Be a part of the SOLUTION.
Call your member of congress at 1-888-966-9836.
Tell Your Member of Congress: "As a Constituent, I expect you to stand up for American workers and oppose fast Track for the TPP."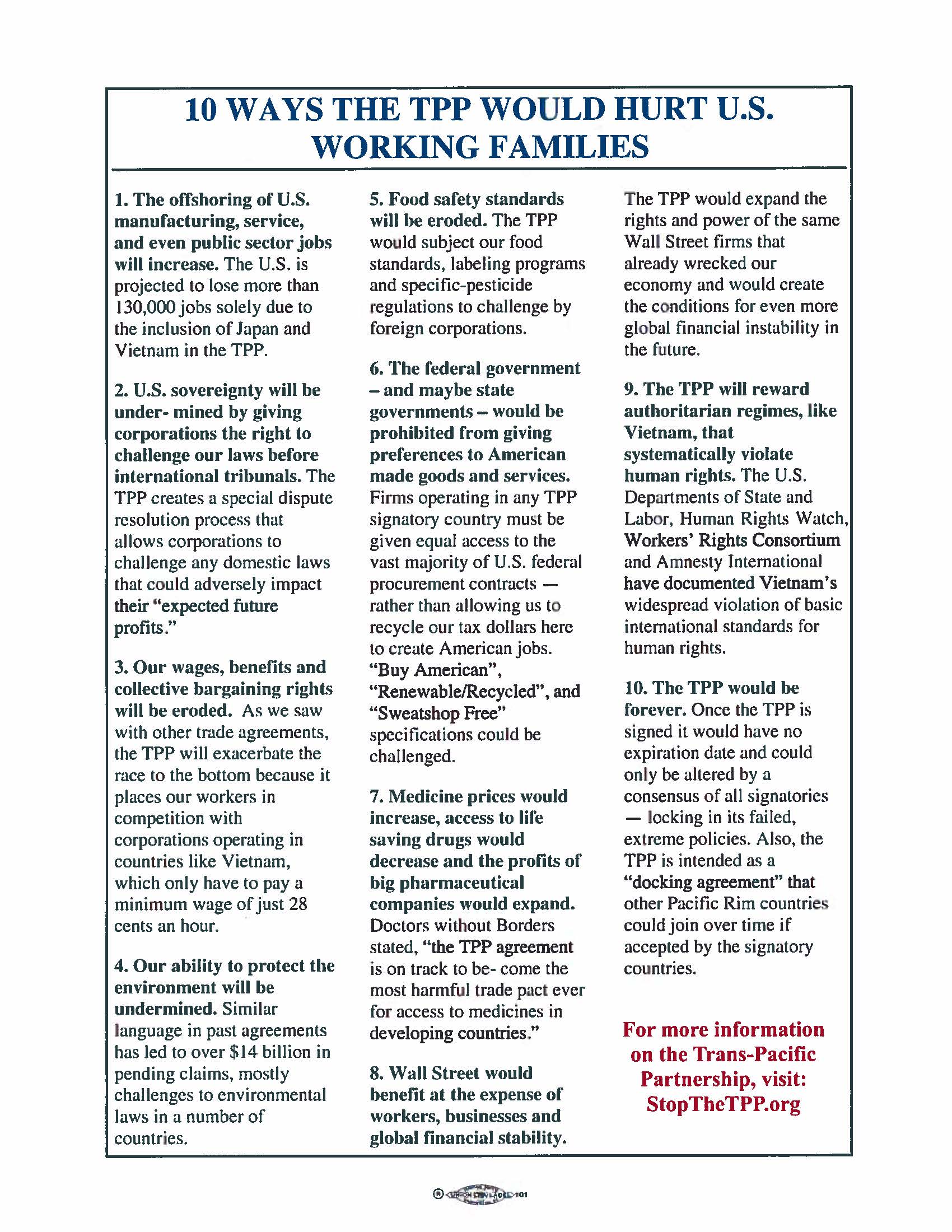 Outsourcing of American Jobs Hurts all of us.
STOP
THE
WAR
ON
COLORADO
W
RKERS
Avaya Inc is outsourcing Colorado Jobs. Outsourcing hurts families, students, homemakers, taxpayers, local business and our economy. Colorado taxpayers should not subsidize Avaya's profit margin, nor should they bear the burden of business failures, foreclosures, unemployment and higher taxes caused by outsourcing.
Avaya is owned by TPG and SilverLake. Both of these companies are private equity firms with $Billions in assets.
Contact TPG and SilverLake and tell them to keep our jobs in Colorado!
Sign this petition to The Colorado State House, The Colorado State Senate, Governor John Hickenlooper, The United States House of Representatives, The United States Senate, and President Barack Obama, which says:
"Stop the outsourcing of Avaya Colorado jobs."
Will you sign this petition? Click here:
US CALL CENTER WORKER AND CONSUMER PROTECTION ACT (H.R. 3596)
BRING CALL CENTER JOBS HOME
CLICK HERE FOR MORE INFORMATION AND TO CONTACT YOUR REPRESENTATIVE
CLICK HERE to view the commercial that CWA aired on CBS
We need a massive amount of phone calls to Sen. Michael Bennet and Rep. Jared Polis, immediately. Distribute this message to everyone you know.
Tell/demand Members of Congress to reject what is now euphemistically called "Smart Track" (the old Fast Track Trade Promotion Authority in disguise).
Call now. Call often.
House 888-966-9836
Senate 877-795-7862
Calls are routed by ZIP Code. To reach Polis, use ZIP Code 80304. For Bennet, use your own ZIP Code.
Rep. Jared Polis of Boulder appears to support Fast Track.
You can also call local offices: Bennet 303-455-7600. Gardner 303-391-5777.
The Trans-Pacific Partnership
A corporate sneak attack on U.S. jobs, wages, environmental protection, religious and social freedom, and public services
The Trans-Pacific Partnership (TPP) is a new international trade pact crafted by multinational corporations and currently being negotiated in secret by the Office of the U.S. Trade Representative Michael Froman, a former Wall Street banker, along with eleven other foreign governments.
Over 600 corporate advisors also have access to the text, but the public and civil society are excluded.
Little was known about the TPP until a series of leaked documents was published in 2011 by the Citizens Trade Campaign, revealing what many had suspected. The TPP is not about trade at all, but is a corporate power grab that circumvents domestic judicial systems and undermines national sovereignty.
If ratified, the TPP would establish a system of international tribunals allowing corporations to challenge the laws, regulations and even court decisions of any member nation (including local, county and state laws) if they are deemed to adversely impact the corporation's expected future profits.
Under the TPP's "investor-state" provision, corporations would even be allowed to file preemptive lawsuits against proposed government actions before they are undertaken, preventing, for example, New York or other states and municipalities from passing anti-fracking legislation or enacting consumer protection laws. Judges on these tribunals would consist of corporate lawyers on temporary leave from their regular jobs with multinational corporations, and because of international treaty obligations, their decisions would supersede those of domestic courts, possibly including the U.S. Supreme Court.
Similarly, the North American Free Trade Agreement (NAFTA), negotiated in the early 1990s, forced governments to overturn many environmental and worker protection policies. NAFTA caused the elimination of hundreds of thousands of U.S. jobs, and millions of Mexican farmers who could no longer compete with heavily subsidized U.S. crops were displaced from their land, setting off a wave of desperate forced migration northward.
The TPP will greatly accelerate this global race to the bottom as it is much larger than NAFTA; its negotiating countries already constitute 40 percvent of the world economy and it contains "docking" provisions allowing other nations to join later.
Provisions in the TPP specifically threaten to:
Send more American jobs overseas to countries such as Vietnam with a minimum wage of less than $1.00 per hour; reduce income potential in U.S. for jobs that are left.

Undermine food safety protections by making it harder for countries to adopt regulations such as labeling laws or banning GMOs.

Dismantle the "Buy Local" movement by overturning government laws designed to keep taxpayer dollars in the local economy.

Inhibit access to lifesaving medicine by extending monopoly drug patents for big pharmaceuticals.

Curtail Internet freedom, spur further financial deregulation, roll back environmental laws and more.
The TPP is being negotiated under unprecedented secrecy because previous attempts to pass similar "free trade" pacts have been met with widespread public opposition. Grassroots movements in the past have successfully stopped the Multilateral Agreement on Investment, the Free Trade Area of the Americas, the expansion of the World Trade Organization, and others.
President Barack Obama is desperately trying to get "fast track" (Trade Promotion Authority) approval in Congress for the TPP. Fast Track, now before the Senate and House, gives the President a "blank check," bypassing congressional review and public debate entirely. Rep. Diana DeGette opposes Fast Track.
We must act now to protect the democratic process. Call Senators and Representatives:
House 888-966-9836
Senate 877-795-7862
Calls are routed by ZIP Code. Rep. Jared Polis of Boulder has refused to take a position. If you want to reach Polis, use ZIP Code 80304. Call every day.
You can also call the local offices of Senator Michael Bennet 303-455-7600 and Senator Cory Gardner 303-391-5777. Call often.
  Information for members that live in the City and County of Denver CWA Local 7777 Legislative Committee interviewed Candidates running for Denver City Council. Read More...
A Big Win For Workers As Obama's New Pro-Union Rule Is Set To Take Effect
By: Jason Easley more from Jason Easley
Tuesday, April, 14th, 2015, 7:28 pm
A new Obama administration rule that will speed up the process for workers to unionize will take effect, and it could have a big impact on unionization.
An Obama administration rule that speeds up the process by which employees can unionize will take effect Tuesday after Republicans last month failed to block the measure.
Under the new National Labor Relations Board rules, employees could potentially organize a union in less than two weeks, compared to the previous average of 38 days between the time a petition is filed and the election is held.
Labor groups say this will prevent management from needlessly delaying union elections. But Republicans and business groups contend it will not give companies enough time to prepare for union elections.
According to Bureau of Labor Statistics, unionized workers earn $200 a week more than non-union workers. When benefits are included unionized employees earn $425 a week more than non-union employees. Increasing private sector unionization rates is an essential component to any plan to grow the middle-class. Any change that makes it easier for workers to unionize is a positive development.
Over the last three decades, the deck has been stacked by Republicans against unions. President Obama's new rule is an important step towards unions finally being able to fight back.
ATTENTION PRO-TAXI (TAXI COOP) MEMBERS We would like to bring to your attention that many of the members who have signed up for the new Pro-Taxi (Taxi Coop) have failed to continue to pay their $28 monthly dues payment to CWA Local 7777. Call CWA Local 7777 at (303) 781-8700 if you are not sure what month you are paid through. Read More...