| | | |
| --- | --- | --- |
| Welcome | | You are not currently logged in. |
| | | |
| --- | --- | --- |
| | | |
| | | |
| | | |
TPP=SHIPPING OUR
JOBS OVERSEAS
The TransPacific Partnership TPP is like NAFTA on steroids. To ram the agreement through congress, they first need to pass 'Fast Track' legislation.
Fast Track forces an up-or-down vote by Congress with limited debate and no possible amendments. To stop the TPP, we must stop Fast Track Legislation.
Make our voices heard: Stop Fast Track Now!
We have watched our jobs being offshored and must take action to put a stop to more outsourcing!
The job you save could be your own!
Call today - Be a part of the SOLUTION.
Call your member of congress at 1-888-966-9836.
Tell Your Member of Congress: "As a Constituent, I expect you to stand up for American workers and oppose fast Track for the TPP."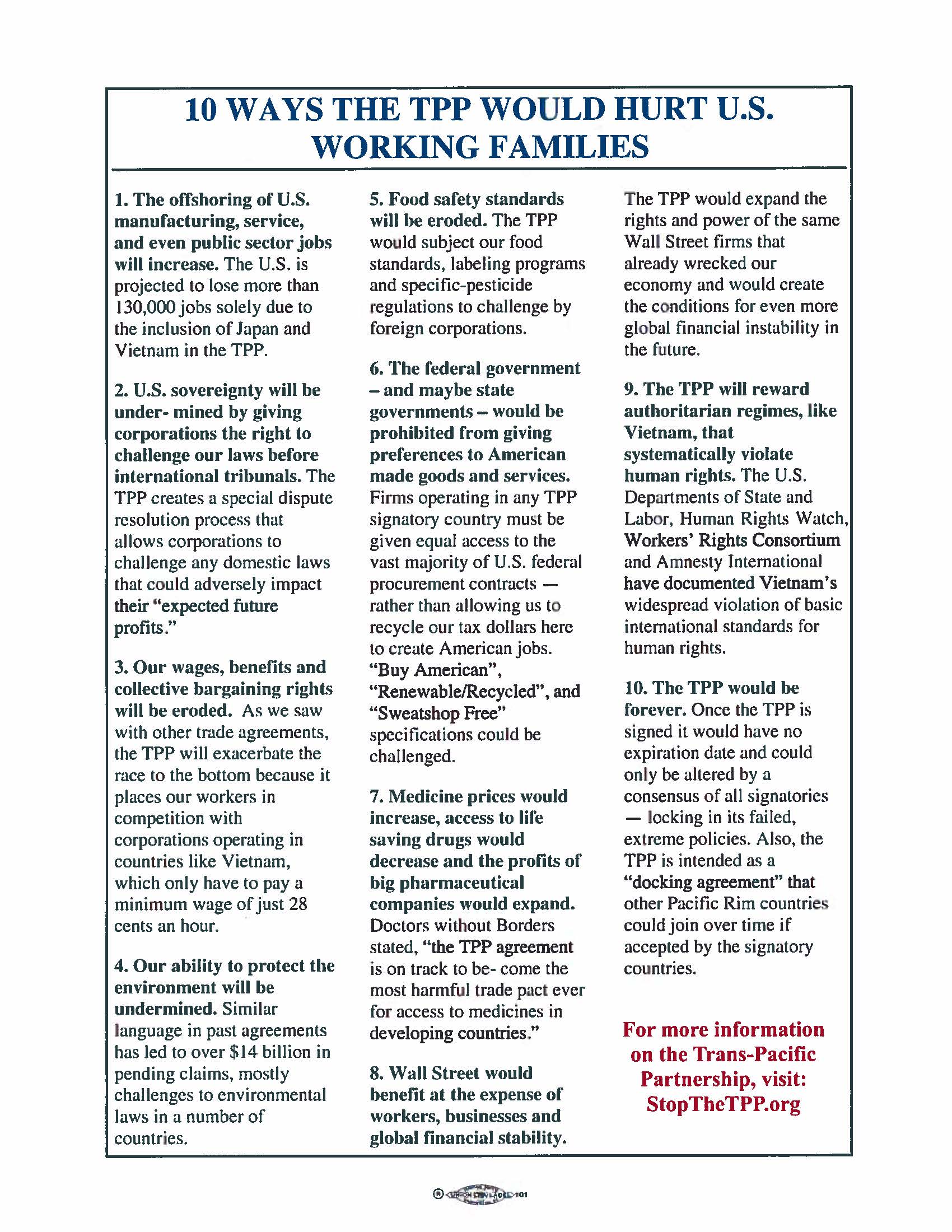 Outsourcing of American Jobs Hurts all of us.
STOP
THE
WAR
ON
COLORADO
W
RKERS
Avaya Inc is outsourcing Colorado Jobs. Outsourcing hurts families, students, homemakers, taxpayers, local business and our economy. Colorado taxpayers should not subsidize Avaya's profit margin, nor should they bear the burden of business failures, foreclosures, unemployment and higher taxes caused by outsourcing.
Avaya is owned by TPG and SilverLake. Both of these companies are private equity firms with $Billions in assets.
Contact TPG and SilverLake and tell them to keep our jobs in Colorado!
Sign this petition to The Colorado State House, The Colorado State Senate, Governor John Hickenlooper, The United States House of Representatives, The United States Senate, and President Barack Obama, which says:
"Stop the outsourcing of Avaya Colorado jobs."
Will you sign this petition? Click here:
US CALL CENTER WORKER AND CONSUMER PROTECTION ACT (H.R. 3596)
BRING CALL CENTER JOBS HOME
CLICK HERE FOR MORE INFORMATION AND TO CONTACT YOUR REPRESENTATIVE
CLICK HERE to view the commercial that CWA aired on CBS
Call Union Taxi for all of your transportation needs
Union Taxi drivers are members of CWA Local 7777!
ATTENTION PRO-TAXI (TAXI COOP) MEMBERS We would like to bring to your attention that many of the members who have signed up for the new Pro-Taxi (Taxi Coop) have failed to continue to pay their $28 monthly dues payment to CWA Local 7777. Call CWA Local 7777 at (303) 781-8700 if you are not sure what month you are paid through. Read More...
Election Information If you have not received your ballot for the CWA Local 7777 Officer Election, please contact the Local Union office at (303) 781-8700 to update your mailing address. Remember all ballots must be received at the Post Office box by 9:00 a.m. on Thursday, November 13, 2014 in order to be counted. Read More...